If you're looking for a truly custom experience and positive end result, Promat Service Ltd. is here. We will send a sales representative to meet with you for an onsite consultation. Our sales representative will present you with various options for a logo mat and you will work together to ensure you receive exactly what you need. To arrange a consultation, please call or email us.
Logo Matting
Make a statement with a custom logo mat for your office, board room, lobby or shop. Inlayed logo mats are available in virtually any size and shape; ovals, swooshes, designs and geometric patterns can all be incorporated in to the mat product of your choice.
Often, a mat will be the first thing customers see as they enter a store. In a way, mats serve as an informal greeter. Many times, when customers see a freshly cleaned mat, inlaid with your company logo, they will think "Wow, if this place takes such good care of their mats, they must take excellent care of their customers as well."
Having a fresh, clean, welcoming mat is great for the customer experience. But, when you factor in how many injuries mats help to prevent and how big of a help they are in reducing cleaning costs, you really can't go wrong by having the right mat.
Choose Your Matting Style
Logos can be incorporated in to numerous styles of mats, including:
Supreme Knob
Supreme Knob Tile
Premium Knob
Waterhog™ Classic
Stratus
Stratus Flex
Galaxy Roll
Classic Supreme Speckle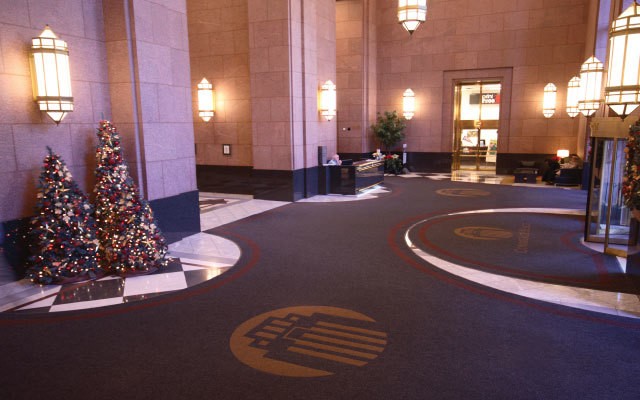 Screen-Printed Logo Mats
Our printed logo mat begins as a white mat that is then sprayed with fade-resistant colours. This is a perfect option for shops on a budget!
Specifications
CONSTRUCTION: Needlepunch
FACE STYLE: Berber
FACE FIBRE: 85% Polypropylene, 15% PET
FACE WEIGHT: 27 oz. / square yard
BACKING: (PVC) PVC Plastisol with 20% Recycled Tire Content
BORDERS: Yes
TOTAL WEIGHT: .80 lbs. / square foot
APPLICATION: Medium to Heavy Traffic
How It Works
To begin work on your inlay mat, all you need to do is supply a vector file or high resolution bitmap image (300dpi minimum). EPS or PDF files are preferred. Next, you will receive a product rendering and cost estimate within 36 business hours (we reserve the right to charge). Once you submit your order, we will get to work on your custom logo mat. Each element of your logo will be precision cut using a state-of-the-art computerized water jet. Then, the corresponding pieces are fitted together in to the "field" mat of your choice. Once the fitting process is complete, the entire logo is backed and finished to your exact specifications. In as little as 3 1/2 weeks, you should have a beautifully crafted professional inlay logo mat!